ESCAPE

from the CRATER

Copyright 1974 by Carl L. Biemiller

Published by Doubleday & Company, Inc. Garden City, NY Library of Congress Catalog Card Number 74-2714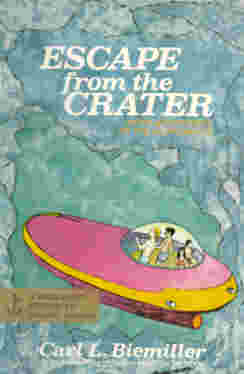 From the book's jacket:
"Kim Rockwell, Toby Lee, Genright Selsor, and Tuktu Barnes are all aboard the work sub Adam I and ready to continue accepting the unusual as normal. In their latest adventure, the Hydronauts are the guests of the Kirl, the strong, agile, four-footed Ocean People. The crew had accomplished their mission to find Kirl, but are disregarding their orders to eliminate them. Also on board is a cryo, a well preserved U. S. Army major who died in 1999 and is revived in the era of the Hydronauts.

The Hydronauts must now be able to relay the information stored in the Kirl Archives and the knowledge of thermal energy-geologist Major Bruce Bell that there is a vast new livable continent free of bomb sickness that has plagued the earth since its nuclear decimation to the World Council.
A fast paced, exciting, and humorous science fiction novel, Escape From The Crater is the third in Carl L. Biemiller's Hydronaut series."
NOAA--National Oceanic and Atmospheric Administration